Home

Photos of Woordfees 04, 05 and 2006 and 2010 Awards Authors of the Day, 1 2 3 4 5 6 7 8 10 Launches
---
Authors of the day 9
In memoriam
Gideon Joubert


1923 - 2010

Author of Die Groot Gedagte

passed away at the age of 86 on 27 October 2010 in Helderberg Village.
Stellenbosch has lost a great artist and defender of her heritage

Hannes Meiring

1934 - 3 May 2010

Architect, painter, graphic artist
Illustrator and author of books on South African architectural heritage
Woordfees 2010 and Authors of the day:
Nuwe woorde word nuwe liedere , Woordfees concert on Saturday, 6 March 2010:
List of 'WOORDtroFEES' prize winners (pdf) See more photos


Anneline Ball, Hendrik Hofmeyr, Hennie Aucamp, Daniel Hugo, Linette van der Merwe, Chris Mostert, Deirdr&eacute Blignaut

Deirdr&eacute Blignaut (sopran), Linette van der Merwe (mezzo),
Chris Mostert (tenor) and Anneline Ball (piano)


Woordkunstenaar 1. prys: Hennie Aucamp

7 March: Lizz Meiring and Dorthea van Zyl
present "WOORDtroFEES" for the very first time

Strijdom van der Merwe collects the prize for fellow artists

13 March 2010 at Protea Boehuis: Lina Spies and Alida Potgieter talk about "Die skyn van tuiskoms"

Breyten Breytenbach
Max Jacob Prize 2010 for Outre Voix/Voice Over,
the French edition of his poetry collection Oorblyfsel/Voice over
Mahmoud Darwish Literature Prize 2010 for Oorblyfsel/Voice Over

Hertzog Prize 2010 for Die Windvanger

Etienne van Heerden
His novel, Dertig nagte in Amsterdam was awarded the following prizes:
University of Johannesburg Literature Prize 2009
M-Net Prize for Prose 2009
WA Hofmeyr Prize and Hertzog Prize 2010.

Philip de Vos and Tertia Visser-Downie
(piano) were awarded a WoordTrofee 2010
for Prente by 'n uitstalling
2009


Isabel Uys
Author of unusual reference books

Ted Oliver
Molteno Gold Medal 2009 from the Cape Tercentenary Foundation for his lifelong research on the plant family Ericaceae

John C Kannemeyer
Dr. honoris causa, Stellenbosch University 2009
"As an expert in the field of Afrikaans literature, John Christoffel Kannemeyer, an alumnus of Stellenbosch University, is in a unique position as researcher, writer and an expert in editing and textual studies."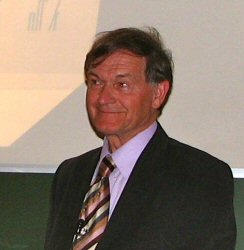 Roger Penrose at Stellenbosch
11 August 2009
Presented a talk: Before the Big Bang?
Sir Roger Penrose, OM, FRS (born 8 August 1931) is an English mathematical physicist and Emeritus Rouse Ball Professor of Mathematics
at the Mathematical Institute, University of Oxford and Emeritus Fellow of Wadham College.
He is renowned for his work in mathematical physics, in particular his contributions to general relativity and cosmology.
He is also a recreational mathematician and amateur philosopher.
From Wikipedia, the free encyclopedia

See his special page

In memoriam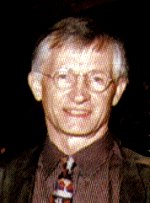 28 July 1942 - 17 December 2009
Fritz Ponelis
Professor of Linguistics at Stellenbosch University until his retirement in 2003
1923 - 2009
Professor at the Department of Forestry Stellenbosch University until 1988
---

www.StellenboschWriters.com © Rosemarie Breuer