Home

Photos of Woordfees 04, 05 and 2006 and 2010 Awards Authors of the Day, 1 2 3 4 5 6 7 8 9 10 11 12 Launches
---
Authors of the day 11
Authors of the day:
2012 Media24 Books Literary Awards
Read more and see photos at LitNet


Photos by Alwyn van Zyl
Michiel Heyns was awarded the Herman Charles Bosman Prize 2012 for best English fiction and the Sunday Times Literary Award 2012 for his novel Lost Ground.
Dan Sleigh: WA Hofmeyr Prize for best Afrikaans fiction 2012 for Wals met Matilda

www.WOORDFEES.co.za :
2. - 11. Maart 2012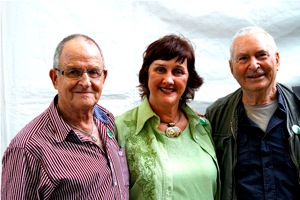 Philip de Vos, Dorothea van Zyl, Hennie Aucamp
Photo by Izak de Vries
Find more Woordfees photos in his his blog.

John Kannemeyer
31 March 1939 - 25 December 2011

At the time of his death on 25 December 2011, J. C. Kannemeyer had just completed the biography JM Coetzee: 'n Geskryfde lewe. The biography has been translated into English by Michiel Heyns (JM Coetzee: A life in writing).
Authors of the day:

Louis Esterhuizen received the Protea Prize 2011 for
Wat die water onthou

Doctor honoris causa of Stellenbosch University:

Detlev Kröger, a world leader in the field of
air-cooled heat exchangers and cooling towers

Wilna Adriaanse's book, Vier Seisoene Kind
was awarded an 'ATKV-Woordveertjie' 2011 for best romance novels.

Photo by Izak de Vries
Melt Myburgh wins the Ingrid Jonker Prize 2011
for Oewerbestaan

Ingrid Winterbach wins M-Net Literary Award 2011 for
Die Benederyk

Wine legend, Dave Hughes
wine writer and wine ambassador has been honoured
by the South African Port Producers' Association (SAPPA)
for his contribution to building the image of Port in South Africa
and internationally. Read more

Marlene van Niekerk received
The PanSALB Multilingualism Awards 2011
for Afrikaans literacy and for the advancement of Afrikaans
and The Order of Ikhamanga (silber)
Her new play, Die Kortstondige Raklewe van Anastasia W
was opened on 13 April 2011 in Stellenbosch
and won the Anglo-Gold Ashanti Smeltkroes Price
for best new text and the Aartvark Award for innovative work.

Mhlobo Jadezweni received the PANSALB award 2011
for the promotion of Xhosa language and literature

Lina Spies was awarded the
Academy Prize 2011 for the (first complete)
translation of Anne Frank's Diaries:
Die agterhuis
Photo by Izak de Vries

WOORDtroFEES 2011:
Elsa Joubert was named Word artist 2011.
Her memoirs, Reisiger, also won the
Recht Malan Prize for non-fiction
the Via Afrika Literary Award 2010
Louis Hiemstra Price for non-fiction, 2011

WOORDtroFEES 2011:
A special mention was made of Dan Sleigh for his novel
Navigator van die Geskiedenis
Lizette Rabe's new books:
August 2011: A biography on Rykie van Reenen:
Rykie: 'n Lewe Met Woorde, Tafelberg August 2011
Bete und Arbeite - The Philippi Germans and their story, mzansimedia, 2010
All proceeds will go towards the iThemba Labantu Centre in Khayelitsha.
Practice your languages with Zettelwitz
New e-Books: Zauberer Zettelwitz vom Tafelberg
Table Mountain Wizard e-book
Die Towenaar vanTafelberg E-Boek
Softcover bilingual editions:
Zauberer Zettelwitz - Table Mountain Wizard (German - English)
Die Towenaar van Tafelberg - Table Mountain Wizard (Afrikaans - English).
by Rosemarie Breuer
See all screenshots of the special edition.

Also available at


---

www.StellenboschWriters.com © Rosemarie Breuer