12 March 2006 at Protea Bookshop: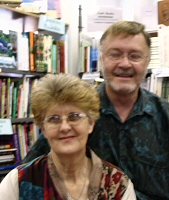 Engela van Rooyen and Deon Knobel during Woordfees 2006.
Engela started her talk with grateful reminiscence of Wilhelm's generous help when she started to write.
Deon, Wilhelm's brother, commissioned Stellenbosch composer, Hendrik Hofmeyr, to set 5 poems to music: 5 elegiese verse vir bariton en klavier.
Deon's film: ...en skielik is dit aand... - 6 lessons on death, desire & loss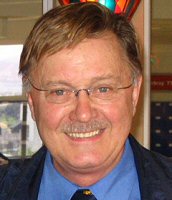 Deon Knobel
Author of Medical publications and compiler of Wilhelm Knobel's poetry
Publisher: Belmonte
Professor of Forensic Medicine at Cape Town University until 2004
Deon Knobel was born on 5 April 1939 at Bethlehem. He was the youngest brother of the Sestiger poet, Wilhelm Knobel. Deon studied Medicine at the University of Stellenbosch (1956-58), where he was offered the Victoria Bursary for overseas studies, in 1964, which, due to personal circumstances he was unable to accept.
Deon sang in the University Choir of Philip MacLachlan, and generally took part in the cultural life of Stellenbosch. He was a member of the Geneeskunde Studenteraad and on the editorial board of Potio medicata, the Jaarblad van die Geneeskunde Studente.
He qualified in 1958 in Anatomical Pathology, obtained the Diploma in Forensic Medicine from the SA College of Medicine in the same year, and spent a life-time in Forensic Medicine and Pathology in Cape Town, and the last 21 years as Professor and Head of the department of Forensic Medicine and Toxicology at the Faculty of Health Sciences of the University of Cape Town.
He was well-known in forensic circles, and also became known as a medical Activist in the fight for the Human rights of patients infected with HIV.
He received a Distinguished Teacher Award from UCT in 2000, and is the author of numerous scientific articles in the fields of Forensic Medicine, Medical Ethics and HIV/AIDS.
His three volumes of student manuals became well known and sought after in the field of Forensic Medicine and assisted many general practitioners in their studies to obtain the Diploma of Forensic Medicine from the College of Medicine of South Africa.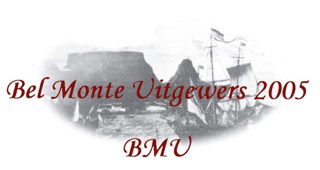 Since his retirement on 30 April 2004, Deon Knobel has been involved in the "resurrection" of the literary heritage of his brother Wilhelm Knobel, and formed his own Publishing Company, Bel Monte, with several successful publications; the elegiac song cycle, "...en skielik is dit aand...", by Hendrik Hofmeyr on five of the well-known elegiac poems by Wilhelm; and Twee Siklusse, a commemorative book containingDonker en skerp lig,and Bloedsteen, the two major poetry cycles by Wilhelm Knobel. Read the review by Louise Viljoen. In 2011 followed As die woorde begin droom - 'n Keur uit die gedigte van Wilhelm Knobel
The work on Wilhelm Knobel's oeuvre is continuing and most of his friends and colleagues of the Sixties have been traced and contacted for contributions to what will eventually become a Scrap Book biography of the life, times and work of Wilhelm Knobel and his colleagues of the Sixties.
Die Twee siklusse is saamgestel en uitgegee as gedenkbundel op Wilhelm se 70e verjaardag herdenking op 26 Oktober 2005, ".. omdat daar soveel warmte, drama, patos en skoonheid in sy gedigte is dat die jonger geslag digters wat hom nooit geken het nie en die ouer geslag wat dalk al vergeet het, hom deur sy gedigte kan ontdek en herontdek. Hierdie twee siklusse verwoord, en soos Wilhelm dit moontlik self sou stel, verbeeld en verklank sy skeppingstalent as digter -- intiem verweef met die woelinge in sy brein en gemoed te wyte aan die bipolère stoornis waardeur hy sy hele volwasse lewe geteister is: die een -- sy skeppingsvermoë -- wat sonder die ander -- sy siekte-- nie sou kon bestaan nie.
From the post script of the book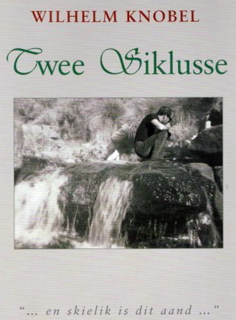 Books:
3 volumes of Forensic Medicine Manuals for Medical students at UCT, which were widely used by doctors who studied for their Diploma in Forensic Medicine:
Volume I: Pathology of Trauma
Volume II: Clinical Forensic Medicine
Vol III Medico legal Aspects in Medicine
Twee Siklusse (compiler), Belmonte, 2005
(commemorative volume published for his late brother, Wilhelm's 70th birthday)
... en skielik is dit aand ..." Song cycle by Hendrik Hofmeyr, Belmonte, 2005
Wilhelm Knobel die ongewapende man: van kindertyd tot sterwenstyd, 2008
Wilhelm Knobel
, As die woorde begin droom - 'n Keur uit die gedigte van Wilhelm Knobel (compiled by Deon Knobel), Bel Monte Uitgewers, 2011
Order
Twee Siklusse - Wilhelm Knobel: die ongewapende man :
(Sagteband, 64 bladsye, ISBN 0 620 33912 8, R95.) and other books by the author:
Deon Knobel. Bel Monte-uitgewery, Kaapstad, 2005.
021 4233 661 or