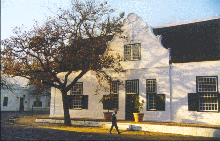 Photo by Willelm Malherbe
Village Museum, Blettermanhuis

Do you like art galleries, concerts, theatre? - It is all here!

Do you like golf and other sports? - You have come to the right place!
Do you like hikes in the mountains or long walks on unspoilt beaches? - The mountains are all around us and the beaches a short drive away.
Are you a nature lover, botanist or bird watcher? - The Western Cape has an enormous variety of fauna and flora.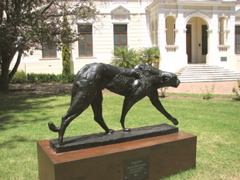 Stellenbosch was more beautiful than ever
when Dylan Lewis, internationally renowned sculptor from Stellenbosch, had turned the town into an outdoor sculpture gallery.
23 life-size sculptures were on display in and around the main areas of Stellenbosch from November 2008 until Mai 2010.

Photos of Dylan Lewis' Outdoor Sculpture Exhibition See Map with thumbnails of the sculptures

5 March 2010 - 31 January 2011:
Untamed Dylan's installation of monumental work can be seen at Oude Bank, Corner of Church and Bird Street, Stellenbosch. Monday - Friday 9:00 - 18:00, Saturday and Sunday mornings