Home


All Reviews
---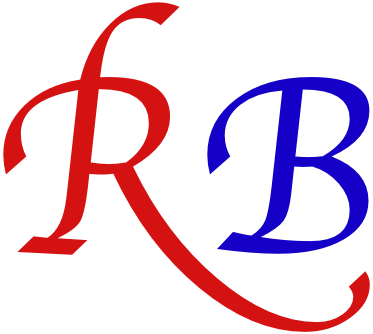 Rosie Breuer books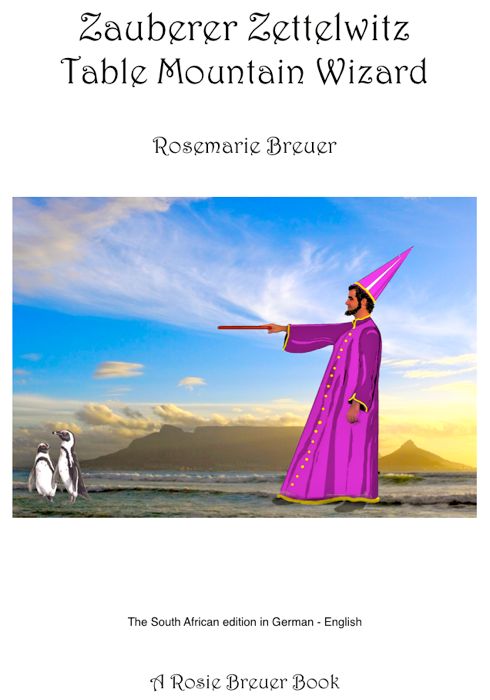 and
Zauberer Zettelwitz - Table Mountain Wizard

a bi-lingual book (German - English) The English translation is not always literal.
A4, 60 pages, all colour with 74 illustrations by the author and 62 paintings of local birds by Jill Adams
Die Towenaar van Tafelberg - Table Mountain Wizard
In Afrikaans and English
With 74 illustrations by Rosemarie Breuer
and 61 bird paintings by Jill Adams

Softcover, excellent quality, 60 pages - Price R 300 or Euro 18.

Kindle versions in German and English:
Zauberer Zettelwitz vom Tafelberg

Zettelwitz the Table Mountain Wizard





More versions of the book: Zettelwitz in Oz and Zettelwitz in Europa. In preparation: Zettelwitz in North America.

The books have been printed by the exellent Digi4 Print team and are of oustanding quality.

Afrikaans: Zettelwitz die Towenaar is 'n grapjas en 'n fanatiese versamelaar van allerhande dinge. Hierdie keer besluit hy om diere en voorwerpe te verander in die hoofletters van hulle name en om so die hele alfabet bymekaar te maak. Die towerreëls sê dat sy prooi op die een of ander manier soos die letter moet lyk waarin dit verander moet word. Hy kom nie maklik daarmee weg nie en party van sy slagoffers baklei kwaai terug. Hulle jaag hom en vang hom, maar hy kry dit meer as een keer reg om te ontsnap. Zettelwitz is verlief op die beeldskone Ronja, maar wanneer sy kwaad word vir hom, besluit hy om 'n nuwe blaadjie om te slaan en om haar te probeer beïndruk met sy handige toorwerk.

Deutsch: Zauberer Zettelwitz ist ein fanatischer Sammler. Diesmal verwandelt er geeignete Dinge und Lebewesen in ihren Anfangsbuchstaben, um das ganze Alphabet zu bekommen. Die müssen allerdings etwas dem Buchstaben ähneln, das erfordern die magischen Regeln. Niemand lässt sich das gern gefallen und er muss viel Hinterlist anwenden um sein Ziel zu erreichen. Er wird gejagt, verhauen, gefangen und entkommt mehrmals. Auch ist er verliebt - er will seiner Ronja gefallen und beginnt nur noch etwas Nützliches zu zaubern. Er stellt fest, wie viel besser es sich anfühlt, wegen seiner Künste bewundert zu werden, anstatt fźr grausame Scherze gehasst zu sein.>br> Sie tun Ihrem Kind einen Gefallen, wenn Sie ihm Geschichten mit großem Wortschatz vorlesen!

English: Zettelwitz the Wizard is a prankster and a fanatical collector of all sorts of things. This time he decides to transform creatures and objects into their capital letters to obtain the whole alphabet. Magic rules require that his prey somehow resemble the letter. He doesn't get away with it very easily, some of his victims put up a fight. They chase him and catch him, but he manages to escape more than once. Zettelwitz is in love with beautiful Ronja. When he experiences her wrath, he decides to change his ways and impress her with some useful magic.
Children will enjoy the rhymes and play on words. You are doing your children a favour by reading them texts, which include some unusual vocabulary.

I have read Zettelwitz with interest and enjoyment - the concept is original, and it is executed wittily and inventively. I should think that children would find it both entertaining and instructive.
Michiel Heyns

It's really great. The theme is original, the story exciting and the whole work can be appreciated on many different levels (a characteristic of great literature!)
Sinclair Wynchank

A new unique, imaginative and educational children's book. It has been written with a play on words, and provides a page for every letter of the alphabet.
Geraldine Mitton

I found the text charming and original - well done!
Marita van der Vyver

I read your book last night - so imaginative, fanciful, original, artisitic AND instructive! You are very clever! CONGRATULATIONS!
Anny Wynchank
---
Stellenbosch Writers
Authors who live or have lived in Stellenbosch
by Rosemarie Breuer
with photos and Jill Adams' delightful illustrations of birds found in Stellenbosch

ISBN 0-620-32948-3
328 pages, B5, hard cover, best quality paper and print
SSI- Stellenbosch Writers, March 2005

Introduction, Acknowledgements and Example page

Price: Now Rand 500 includes postage in South Africa.

It can be ordered from directly.

All sold: Special Sponsor's edition of 100 copies, numbered and signed Sponsor's list
Congratulations on the book. It is an excellent job. To paraphrase an old Afrikaans poem , who could ever think that Stellenbosch has so many writers. you have performed a great service!
Hermann Giliomee

This book will be a valuable piece of Stellenbossiana
Gerrit Kruger

Rosemarie Breuer launched her book during Woordfees, on Saturday, 12 March 2005 at Protea Boekhuis, when Amanda Botha talked to her about the book.
Stellenbosch, this best-preserved and most beautiful town in South Africa, is a town with an Afrikaans-medium university and a mainly Afrikaans culture. It has attracted many newcomers of a variety of nationalities who appreciate the privilege of living here.
Rosemarie Breuer moved to Stellenbosch with her family in 1981and became an ardent local patriot. With the gracious help of many kind people and with the aid of her website she has collected information on Stellenbosch authors in all languages and attained an insight into local history and culture. She hopes to share it with you by presenting 353 authors of all genres, fiction and non-fiction.
Rosie's hobby is bird watching and she decorated her book with Jill Adam's superb drawings of birds found in Stellenbosch.

---

www.StellenboschWriters.com © Rosemarie Breuer