Home


CV of the artist
Transforming Education, video
In memoriam
---


Rage, rage against the dying of the light
This painting by Bertie du Plessis
inspired Rika Cilliers to the poem Herkenning

Bertie du Plessis

1949 - 2015

Artist, Designer and Author of books
Chief Learning Officer, Naspers
Bertie du Plessis was was born on 6 August 1949 in Middelburg (Eastern Cape).
He attended school in Pietersburg where he matriculated with six distinctions and in the same year won the 3rd National Science Olympiad (1967). He studied literature and theology at the Universities of Stellenbosch (South Africa) and Tübingen (Germany).
At Stellenbosch he served as president of the Day Students Organisation, Arts Editor of the student newspaper, Die Matie, President of the University Debating Society and member of the Student Representatives' Council. He twice won national debating competitions during his student years. He completed an M.A. in Afrikaans and Dutch poetry cum laude (1973), part-time while completing his studies for the degree Bachelor of Theology. He served in the Department of Afrikaans-Dutch at Stellenbosch as a part-time lecturer for some four years during the early and mid 1970s. Du Plessis completed a doctorate in theology on the communication of New Testament parables that received international acclaim and published numerous scientific and popular articles in the field of New Testament studies.
He served for a decade in the ministry of the Dutch Reformed Church in Pretoria.
Later he run his own strategic communications consultancy, MindPilot (Pty) Ltd (founded in 1995) and coached and mentored business owners.
Du Plessis reviewed books for all South Africa's major Afrikaans publications in at least four different disciplines. He was also for some years the senior movie critic for the Afrikaans newspaper Beeld as well as reviewing fine art for the newspaper. He occasionally commented on exceptional media events for Rapport newspaper. Since July 2013 Bertie Du Plessis was on contract with Naspers as Chief Learning Officer to establish the Naspers Academy.
Until the end he enjoyed blogging on South Africa's largest business and financial portal, fin24.com and wrote short, practical pocket books on issues encountered in his consulting practice. Bertie's blogs had reached the top 10 business blogs of the year in South Africa in 2010. It was regularly most read and most commented on South Africa's largest financial and business portal, fin24.com.
Du Plessis was also an artist of distinction with four solo exhibitions to his credit, amongst them at South Africa's premier gallery, the Goodman. His work is represented in public and private collections in South Africa, the USA, Canada and the UK. He was an early adopter of Apple's iPAD and created a series of portraits, painting free hand directly with the finger in the Brushes App. These may be seen at http://www.flickr.com/photos/dreambrush. His work as an artist spans all the major technological epochs of: charcoal, brush painting, airbrushing, the first wave of digital art and the new wave digital art on tablet computing, "iPAD painting".
Recognition: Bertie du Plessis is represented in the volume Granaat (1993), a selection of Afrikaans essayists covering the 1980s and early nineties. His blog Read This! (www.bertieblogs.com) voted top ten business blog in South Africa in 2010.

Hobbies: Cycling, completed four Cape Argus Tours
Favourite books:
Rembrandt's Eyes by Simon Schama'
The poetry of D J Opperman, Breyten Breitenbach and Pablo Neruda
Against the Gods, the story of risk by Peter Bernstein
Isaiah Berlin on Tolstoy
Socrates' Apology by Plato
Favourite quote:
'Most people would sooner die than think, and in fact they do!' - Bertrand Russell
From Bertie's new website: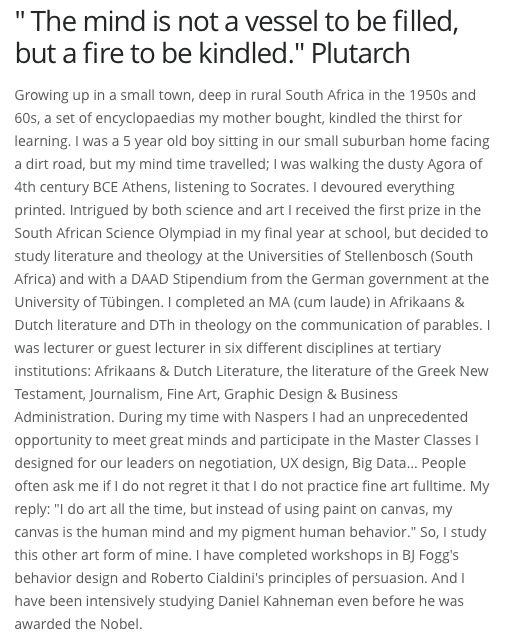 Bertie died on 17 December 2015 after a short illness.

Books:
See also his e-books at Amazon.com


Kaart vir die lewe, Daan Retief Uitgewers, 1982
Back to Basics: Strategy, Stellenbosch University publishers, 2003
Back to Basics: Client Relationships, SUN Media, 2007
Don't Lose Your Pension: 8 Questions you absolutely must ask your financial advisors (Crink 2009) and Amazon Kindle 2010
Tafelberg Short: Your Small Business Nightmare, Adobe DRM ePub, Tafelberg, 2013
How to write your business card on steroids, Kindle 2013
Hard-Core Strategy: The Agenda, 17 questions that cut to the bone, 2013

Available at Amazon.com:

How to write your business card on steroids
Hard-Core Strategy: The Agenda,17 questions that cut to the bone
Tafelberg Short: Your Small Business Nightmare
Don't Lose Your Pension! 8 Questions you absolutely must ask your financial advisors>

Bertie du Plessis - Artist & Designer

Profeet 6


Lightness of Being


Gargoyle


Summit


Hanlie


•1966: One of 150 pupils selected nation-wide for the Republic Festival Schools Art Exhibition.

•1966: While still at school commissioned to illustrate a book on natural history, published in 1970.

•1972-74: Series of portraits of Afrikaans poets for the magazine Penseel. The making of the portrait of DJ Opperman described by J C Kannemeyer in his definitive biography of Opperman.

•1982: Selected for the New Signatures Exhibition. Later that year first solo exhibition in the Galery S in Pretoria. Naomi Nowosenetz commented in the Pretoria News: 'What lifts his art above that of a commercial portraitist is his insight into the character of his models."

•1990: Exhibits super-realist airbrush studies to wide acclaim. Michael Coulson wrote in the Financial Mail: 'Bertie du Plessis' large airbrush acrylics are technically stunning flower studies, immaculately drawn in glowing colours…' The poet Rika Cilliers chooses the title for her last volume of poetry, Spirakel, from a poem written in response to the Goodman exhibition: The following is an excerpt: 'No Polaroid can equal you airbrush / in consummate shimmering... the other flowers rage colour rich / uninhibited, violating / boundary and circumference; / meticulously blown up, but therefore unrealistic: so smoothly executed / they shrill against textures of decay - against so much mortal "flower-hood".'

•1991: Feature article in Tuin&Huis.

•1991: Honourable mention in the painting category at the Kempton Park (now Ekurhuleni) Fine Arts competition.

•1991: The cover illustration for the novelist Piet Roodt's Die Geel Geluid van die Son receives critical acclaim from reviewers.

•1991-1994: The airbrush acrylics continue to elicit favourable reviews from Bettie Lampbrecht in Beeld, Muffin Stevens in The Pretoria News: 'Hyperrealism exaggerates every detail until the whole becomes so crystalised that it even comments ironically on the so-called "real". One hardly ever experiences vision in this hallucinatory way. '

•1992: The IMS Group of Companies selects the Goodman paintings for their annual calendar.

•1992: Billboard design for IST at Johannesburg International Airport is reviewed in The Star newspaper with the following comment: 'This billboard…is thought to represent a major artistic achievement…'

•1993: One of the pioneers of digital fine art in South Africa. Selected for the Momentum 1993 National Art Competition with a cibachrome computer graphic mounted on a light box. One of only two artists showing digital works at this exhibition.

•1994: Solo exhibition in the Pietersburg (now Polokwane) Art Museum.

•1994: 'Hot and cold,' a solo exhibition at the Pretoria Art Museum's Café Palette shows digital works in juxtaposition to a series of charcoal illustration of a poem by N P van Wyk Louw. Fransi Phillips discusses this and other exhibitions for Beeld under the caption: 'Work of international quality.' Phillips is the first critic to point attention to Du Plessis' integration of poetry with visuals.

•1996: Group show of figure drawings. Quotations from Breyten Breytenbach's Nege Landskappe Bemaak aan 'n Beminde title four charcoal nude studies. Fransi Phillips reviews the exhibition under the title: 'The essence of creativity.' She once again points to Du Plessis' use of poetry to slant the meaning of the art works.

•1995: Judge at the Sasol New Signatures Competition.

•1996: Keynote speaker at the opening of the Volkskas (now Absa) Atelier Competition.

•1999: The IMS Group of Companies commission Du Plessis to create a series of digital artworks for a calendar celebrating their golden jubilee in South Africa.

• Creative Director for the design of the Telkom 2001 Annual Report.

•2003: Fine Line, a group exhibition at the Mind's-I Gallery. Exhibits 'Three illustrations on a classical theme.'
2006 - 2010: Teaches an MBA elective at the Gordon Institute of Business Science on Imagination for the business mind.
2010: Workshop at the Pretoria Association of Arts on "iPAD art".

* * *

The following translation (by Bertie du Plessis) is an extract of a poem, "Herkenning," by Rika Cilliers in her fourth and last volume of poetry, Spirakel (Spiracle), pp 57- 58, and refers to the painting, titled "Rage, rage against the dying of the light" by Bertie du Plessis, 1990 airbrush acrylic on canvas 80 cm by 120 cm. In the possession of Dr & Mrs BP Botha

'No Polaroid can equal your airbrush
in consummate shimmering...
the other flowers rage colour rich
uninhibited, violating
boundary and circumference;
meticulously blown up, but therefore
unrealistic: so smoothly executed
they shrill against textures of decay -
against so much mortal "flower-hood"

'And you, whom I recognise for a flower,
in this accidental encounter, making small talk,
inspire me to reciprocate, to paint
what is as yet outside the frame
but even so already encapsulated:

'first the iris flaps its wings, then withers,
thin veins lose their tensile strength
falter, unable to bear the flower's weight,
sap evaporates,
leaf after leaf curls back unto themselves
and dries into a cheroot
then, more tender than the very first bud,
praying mantis, with breath bated in a spiracle
morphs into a twig
settling on my palm.'

---

Text by Bertie du Plessis, July 2011 and 2013 Thank you, Bertie, for the many times you gave me help and encouragement. Rosie

www.StellenboschWriters.com © Rosemarie Breuer

Books