FJ Snijman
1915 - 1994
Chief Editor of the Woordeboek van die Afrikaanse Taal (WAT), 1962-1980
Frederick (Frikkie) Johannes Snijman was born on 13 February 1915 in Rietbron in the Central Karoo. He matriculated at Oudtshoorn Boys' High School and enrolled at the Rhodes University College in Grahamstown for a BSc in Chemistry, Mathematics and Dutch-Afrikaans. Attendance for the latter subject required special permission, yet led to a Master's Degree (cum laude). He then moved to the Stellenbosch University to obtain his Secondary Teacher's Diploma. With a Queen Victoria bursary for overseas study, he attended the University of Utrecht in 1939 where he studied Dutch and the History of Art. His studies were interrupted by the Second World War, which trapped him in Holland. During this time recreation was limited, so Snijman took to cycling through the Dutch countryside. The wide riches, especially the rivers, fascinated him. Without any formal training, he put his impressions on paper in some 50 small sketches. Copies of these now decorate the staff room of the WAT's new premises.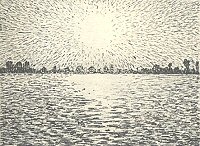 When the University of Utrecht reopened in 1945, Snijman was the first student to defend his doctoral thesis, completing his degree with distinction. He returned to South Africa and lectured on Afrikaans at Stellenbosch University. In 1948 he joined the WAT editorial staff, where he worked for 33 years, until 1980. He was promoted to Editor-in-Chief in 1962. His ties with Holland remained strong and he kept close contact with the Dutch Dictionary in Leyden. On a personal level another knot was tied in 1955 when he married Toos van Maanen, a Dutch exchange student from Amsterdam where NP van Wyk Louw was one of her professors. The couple had three daughters: Petra, Annemarie and Suzan.
Frikkie Snijman died on 5 September 1994 in Stellenbosch.
Memberships: The South African Academy for Science and Art; The Afrikaans Language Commission; Stigting Simon van der Stel; Stellenbossche Heemkring; Genootskap Nederland-Suid-Afrika; De Maatschappij der Nederlandse Letterkunde.
Publications:
Snijman's most important articles are collected in 'Die leksikograaf as eksegeet' Opstelle en lesings, JCM du Plessis (Ed), Stellenbosch: Buro van die WAT (= Afrilex-Reeks 5A), 1995.
Books:
Literêre styl met die oog op stylondersoek (PhD thesis), Assen: Van Gorcum & Kie, 1945
Kruim en Kors (a series of popular talks for the SABC), Voortrekkerpers, Johannesburg, 1964
U woorde, u woordeboek (a short history of lexicography in South Africa and particularly of the WAT), Beheerraad van die Woordeboek van die Afrikaanse Taal, 2nd Edition, 1975
Read also CV (in Dutch) by Hans Ester at Levensberichten Maatschappij der Nederlandse Letterkunde.
---
Text by Toos and Petra Snijman
Sketch by Frikkie Snijman: 3. Op de Vinkeveense Plas
29.06.1943
5.5 cm x 4 cm Ink
The Vinkeveense Plas is a large shallow lake close to Loenen aan de Vecht.