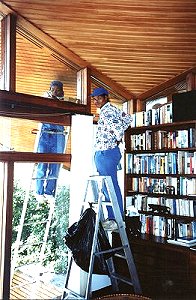 The "lowest" corner in the library
Stellenbosch, 18 Constantia Avenue
Plot: 2110 qm, Building 375 qm
The house has 2 balconies on opposite sides and 9 doors that lead outside.
The upper floor is open plan (except for the enclosed kitchen and cloak room)

Reception area with cloak room and toilet
Small study
Large living room with glass front and a fireplace made of face brick and copper
Dining room with sliding doors to balcony and upper garden
Modern kitchen and pantry

An elegant staircase leads first to the library (or family room) and another glass front with sliding doors to the garden.
More steps lead to the lower floor:
Master bedroom en-suite with sliding doors to the inner garden
Bedroom with sliding doors to the front garden
Small bedroom
Bathroom
Linen room and wine cellar

4 further storage rooms

double garage, parking area - all hidden from direct view
Annex with laundry and large water storage on its roof
Small guest house or (maids quarters) with shower and toilet
Salt water pool

A wall and pergola divide the inner garden from the front garden.

---

www.LandmarkHouse.com © Rosemarie Breuer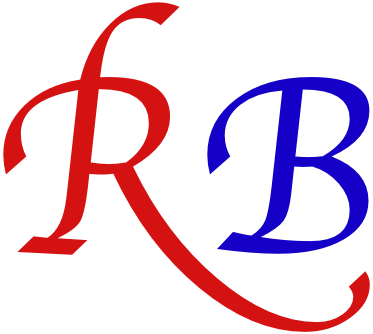 Books
PLANETPROPERTY - Exclusive Real Estate. Worldwide Real Estate for sale.