Home

---
Prof. Rufus Gouws
Department of Afrikaans and Dutch
Stellenbosch University
Private Box X1
Matieland 7602
South Africa

Rufus Gouws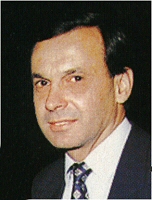 Author of publications on Lexicography
Professor in Afrikaans Linguistics at the Department Afrikaans and Dutch, Stellenbosch University
Rufus Hjalmar Gouws was born on 30 January 1953 in Paarl and grew up in Cape Town. He matriculated from High School Nassau and studied at the University of Stellenbosch (MA; DLit 1982 , title of thesis: Die skrapping van identieke stukke in Afrikaanse neweskikkingskonstruksies).
He was lecturer at the Department Afrikaans and Dutch, University of South Africa, 19777-1979, and joined Stellenbosch University in 1980.
He is first chairperson and current vice-president of AFRILEX (African Association for Lexicography), a former member of the Taalkomissie, a former Honorary research fellow at the University of Exeter, England, and was guest professor at the Germanistisches Seminar, Heidelberg University, Germany and at the Centre for Lexicography at the Århus School of Business in Denmark.
Rufus Gouws is one of the editors of the new HSK-Handbook on lexicography and also one of the editors of the International dictionary of lexicography.
He is married to Ilse-Marie (née Gerber) and has four daughters: Liezl, Marike, Inge and Mieke.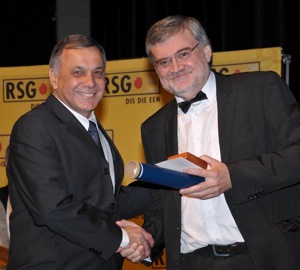 Awards:


Received various travel and research grants
SA Association of Linguistics Award for his book "Leksikografie", 1991
Rector's Award for excellence in research, 2001
Grant from Vilhelm Kann Rasmussen Foundation in Denmark
Elizabeth Eybers Prize 2006
CJ Langenhoven Award for Linguistics 2012 in recognition of the excellent work he has done in the field of lexicography
N.P. Van Wyk Louw Medal 2019

Prof Rufus Gouws receives his award from prof Wannie Carstens, chairperson of the Academy. (Photo by Anton Jordaan, found at SU news blog, 12 September 2012)

Books:

Leksikografie, Academica
Co - author of:
Die zweisprachige Lexikographie Afrikaans-Deutsch/Deutsch-Afrikaans in: Wiegand, H.E. (red.) Studien zur zweisprachigen Lexikographie mit Deutsch III. Hildesheim: Georg Olms Verlag
Idiomewoordeboek (1988, with Meyer de Villiers)
ELHAT - Elektroniese Verklarende Handwoordeboek van die Afrikaanse Taal (with F.F. Odendal), Doornfontein: Perskor
Sintaksies op die Voorgrond, (with llse Feinauer), JL van Schaik, 1998 (In honour of his work on Afrikaans Linguistics this book was dedicated to Fritz Ponelis)
Verklarende Handwoordeboek van die Afrikaanse Taal (HAT) (4th edition, with F. F. Odendaal), Maskew Miller Longman, 2000
Nasionale Woordeboek (with Meyer de Villiers et al), NASOU 1986
Basiswoordeboek van Afrikaans (with Fritz Ponelis and llse Feinauer), JL van Schaik, 1995
Nuwe woordeboek sonder grenze (Co-authors: Mariza Stark and Liezl Gouws), Maskew Miller Longman, Cape Town, 2004
HAT Verklarende woordeboek (Co-author : F. F. Odendal), Pearson, 2005
Wörterbuch zur Lexikographie und Wörterbuchforschung
Dictionaries: An international Encyclopaedia of Lexicography (both with H.E. Wiegand et al, 3 volumes have been published by W. de Gruyter, Berlin. More to follow)

Friends will be Friends - True or False. Lexicographic Approaches (PDF)
---
Information by Rufus Gouws

www.StellenboschWriters.com © Rosemarie Breuer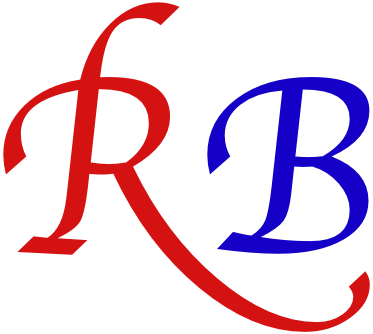 Books