Home

---
P. J. Cillié
1917 - 1999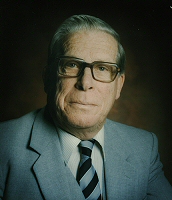 Author of essays and a children's book
Editor of Die Burger and the first
Head of the Department of Journalism, Stellenbosch University
Petrus Johannes Cillié was born on 18 January 1917 in Stellenbosch, the son of G.G. Cillié, first rector of the Stellenbosch University (after it changed its name from Victoria College), and younger brother of Gawie Cillié.
After his studies at Stellenbosch University (BSc, cum laude) , he started to work as a journalist for Die Burger in 1935. He was editor of the newspaper from 1954 - 1977 and later chairman of Nasionale Pers's board of directors. He wrote a political column under the name of "Dawie".
1978 - 1983: Founder and head of the new Department of Journalism, Stellenbosch University.
He enjoyed music, painting and books on Science and Culture. The Scientific American was one of his favourite magazines.
Piet Cillie was married to Elizabeth Frederika (Bettie) Cillie (née Bester - came from Hopefield) and they had two daughters, Maria Elisabeth de Vries and Angelique Maryn Edwards and 6 grandsons.
Favourite Quote: A person should practise loyal protest. (NP van Wyk Louw)
"Die redakteur wat met dr. Hendrik Verwoerd gebots het."

(Hy was) saam met N.P. van Wyk Lous waarskynklik die beste essayskrywer wat daar nog in Afrikaans was. Hy was in eie reg een van die mees merkwaardige en komplekse figure van sy tyd.
Hermann Giliomee.
Awards:

Honorary Doctorate from the Stellenbosch University in 1975
Order for excellent service
Markus Viljoen Medal 1979
D.F. Malan Medal 1984
Honorary member of SA Akademie vir Wetenskap en Kuns 1991

Books:

1964: Glippie en Slippie (children's book)
Tydgenote, 1980 (Collection of essays in Die Burger)
Eet jou rape eerste - 'n Bonteboek uit die geskrifte, 1980
Trienkie (compiled with an introduction by Rykie van Reenen), 1982
Baanbrekers vir vryheid, 1990
---

www.StellenboschWriters.com © Rosemarie Breuer