Home

Afrikaans CV
louisesmit.co.za
---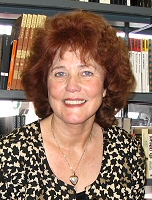 Louise Smit
Author of children's books and TV programmes
Louise Smit matriculated at La Rochelle Girls' High in Paarl. After five years of studies at the Teachers College in Paarl and Stellenbosch University she taught drama at schools and the Academy of Art and Drama. Afterwards she worked in Malawi as missionary for four years and initiated the weekly children's programmes for Radio Malawi in the Chicewa language.
Back in South Africa she started a drama school in Johannesburg and did part time radio work. She wrote 52 stories for Siembamba and more than 100 contributions for women's forum (Vrouerubriek).
Her love for children became more apparent. In 1974 she was appointed as full time director and creator of children's programmes at TV. She started her own TV-studio and created, wrote and directed more than 4000 children's programmes. Her best known series are: Haas Das se Nuuskas, Wielie Walie, Pumpkin Patch, Kideo, Mina Moo, Zap Mag and Professor Fossie. She also published 22 books, based on TV programmes. Of Haas Das se Nuuskas more than 100,000 copies were sold.
In 2002 a new edition of The Bible for Children appeared. A new book Prof Fossi en die Dinosourusse was published in August 2004.
On public demand she wrote a new book: Haas Das se Nuuskas, published in 2006 and Haas Das raak weg, (Illustr. Tanja Joubert), Human & Rousseau, 2007. She also wrote an animation series for TV. For a list of her work see louisesmit.co.za

Louise lives in Cape Town. She is married to Karl Wabel and has a daughter, Corneli.

Awards include


Seven Artes awards for best magazine and children's programmes, SABC
Two Star Tonight Awards for Liewe Heksie (as director) and a series in Tswana: Kabarete ya Poone (Cabaret of the Mielies)
Unima Puppet Award for best contribution to puppetry in South Africa
M-Net Award for children's programme: Eko-Boffins
Tokio International Television Prize for Kideo as the most innovative programme, 1995
Prix de Jeunesse prize, Munich, 1996, third prize for Kideo (Denmark 1st, BBC 2nd, SABC 3rd, Sesame Street 4th)
Award from America: Best commercial: "Women of South Africa", 1986
Golden Plume Award for her contribution and excellence from the South African Broadcastng Corporation.

Books:

Louise published more than 22 books, including: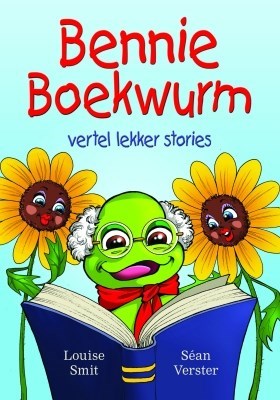 (with Séan Verster)

Bennie Boekwurm vertel lekker stories
Haas Das Raak Weg (Illustrations: Tanja Joubert)
Professor Fossilus En Die Dinosourusse (Illustrations: Marjorie Van Heerden)
Wielie Wielie Walie
(with Séan Verster
Haas Das Se Nuuskas (Illustrations: Fred Mouton)

Wielie Wielie Walie (Luisterboek), 2013
Bennie Boekwurm vertel lekker stories (with SŽan Verster), 2014

Louise Smit and Shân Fisher, A series of novelty board books with wipe-clean pen and fold-out pages, teaches children basic concepts with the help of Louise Smit's most iconic characters from the well-known TV-programs Wielie Walie and Haas Das , Human & Rousseau 2015: Wielie Walie Woelwaters: Haas Das leer ons van teenoorgesteldes | Children & Youth
Wielie Walie Woelwaters: Sarel Seemonster leer ons van kleure
Wielie Walie Woelwaters: Bennie Boekwurm leer ons van vorms
Wielie Walie Woelwaters: Karel Kraai leer ons van syfers
DVDs: Haas Daas Hou Konsert
with Gert van Tonder
Wielie Wielie Walie / Haas Das Hou Konsert DVD
Professor Fossi En Die Dinosourusse 1, 2 & 3 3 DVDs

* * *
Louise Smit matrikuleer in die Hoër Meisieskool La Rochelle, Paarl. Na vyf jaar tersiëre studie by die Onderwyskollege Paarl en Universiteit Stellenbosch, gee sy drama-onderrig by die skole en o.a. by die Akademie van Drama en Kuns. Daarna werk sy vier jaar as sendeling in Malawi en behartig ook die weeklikse kinderprogramme vir Radio Malawi in die Chicewa-taal.
Terug in Suid-Afrika begin sy 'n dramaskool in Johannesburg en doen deeltydse radiowerk. Sy skryf 52 stories vir Siembamba en oor die honderd bydraes vir Vrouerubriek.
Haar liefde vir die klein kind kristalliseer al hoe meer uit. In 1974 begin sy by televisie as voltydse regisseur en skepper van kinderprogramme. Sy begin haar eie televisie-ateljee en vervaardig, skep en skryf 4000 kinderprogramme. Van haar bekendste reekse is: Haas Das se Nuuskas, Wielie Walie, Pumpkin Patch, Kideo, Mina Moo, Zap Mag en Professor Fossie. Sy publiseer ook 22 boeke, gebaseer op televisieprogramme. Van Haas Das se Nuuskas het meer as 100,000 eksemplare verkoop.
In 2002 verskyn 'n nuwe uitgawe van "Bybel vir Kleuters." 'n Nuwe boek Professor Fossilus en die Dinosourusse is in Augustus 2004 gepubliseer.
Tans werk sy aan 'n nuwe Haas Das-boek op publieke aanvraag en 'n animasiereeks vir TV.
Awards:
Sewe Artes awards vir beste tydskrif en kinderprogramme, SABC
Twee Star Tonight Awards vir Liewe Heksie (as regisseur) en 'n reeks in Tswana: Kabarete ya Poone (Kabaret van die Mielies).
Unima Puppet Award vir die beste bydrae vir marionette in Suid-Afrika
M-Net Toekenning vir kinderprogram: Eko-Boffins
Tokio International Television Prize vir Kideo as mees innoverende program, 1995
Prix de Jeunesse Prize, Munich, 1996, Derde Prys (med Denemarke 1ste, BBC 2de, SABC 3de, Sesame Street 4de.)
Toekenning van Amerika: Best commercial: "Women of South Africa", 1986
| | |
| --- | --- |
| Louise Smit presents Haas Das | The whole Nuuskas menagerie |
| Haasie Kwassie | Olifant and Kamera Dier |

Fred Mouton illustrated the book

2 old lions
Karl Wabel

Deon Knobel

---

www.StellenboschWriters.com © Rosemarie Breuer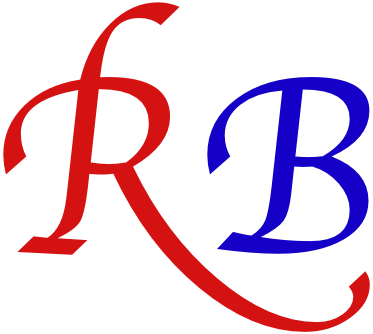 Books