Home LANDMARK HOUSE Rosemarie Breuer rosie AT stellenboschwriters.com Dr. Hans and Rosemarie Breuer, 907 Helderberg Village, Private Bag X19, Somerset West 7129, South Africa
---
German, French and Spanish books Birdbooks Botanical books Cookbooks Gardening History and Memoirs Wildlife
Paintings Fieldglasses and Telescope for Sale
Second hand thrillers for sale
Hardcover, Rand 60 each, Large Paperback and normal paperbacks Rand 20 each - All in very good condition
10% Discount for package of 10 books or more

Agatha Christie John le Carré Colin Dexter Ruth Rendell Barbara Vine Dick Francis
Sold Agatha Christie
Miss Marple - The Complete Short Stories (over 50)
1920 Omnibus: The Secret Adversary, The Man in the Brown Suit, The Secret of Chimneys, The Seven Dials Mystery
1930 Omnibus: The Sittaford Mystery, Why didn't they ask Evans?, And then there were none, Murder is Easy
Miss Marple Omnibus I: The Body in the library, The moving finger, A murder is announced, 4:50 from Paddington
Miss Marple Omnibus II: A Caribbean Mystery, A pocket full of rye, The mirror cracked from side to side, They do it with mirrors
Miss Marple Omnibus III: Nemesis, Sleeping Murder, At Bertram's Hotel, The Murder at the vicarage
Murder in three stages, Novelisations by Charles Osborne: Black Coffee, Spider's web, The Unexpected guest
The Murder on the links, adapted by François Rivière and illustrated by Marc Pikic - Hardcover Cartoon Rand 60
Single Paperbacks at 20 Rand:
The ABC murders
The Adventure of the Christmas pudding
By the pricking of my thumbs
The clocks
Hickory, Dickory, Dock
Halloween Party
Murder on the Orient Express
Mrs. Mc Ginty's dead
The Mystery of the Blue train
Murder in Mesopotamia
Ordeal by Innocence
Endless Night
A Pocket full of Rye
Taken at the flood
Lord Edgware dies

Sold John le Carré, Hardcover:
3 Novels: Tinker Tailor Soldier Spy, The Honourable Schoolboy, Smiley's People, Omnibus - Rand 60
5 novels: The Spy who came in from the cold, Call for the Dead, A Murder of Quality, The Looking-Glass War, A small town in Germany, Omnibus - Rand 60
The Little drummer girl
The Secret Pilgrim
Single & Single
Paperbacks:
The Russia House
A perfect Spy
Our Game
The Night Manager
Absolute friends

Sold Colin Dexter, Large Paperback:
The Remorseful day, very good condition
Paperback, fair condition at 20 Rand:
Last bus to Woodstock
The secret of Annexe 3
The Dead of Jericho
The Silent World of Nicolas Quinn
The Jewel that was ours
The daughters of Cain
Death is now my neighbour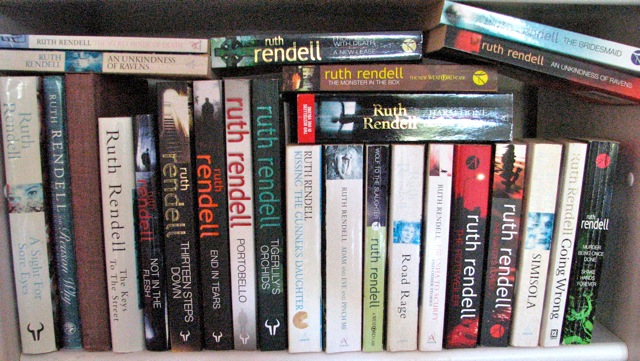 Ruth Rendell All Sold
A Sight for Sore Eyes, first edition, Hutchinson, 1998
The Veiled One, Large print edition, Chivers Press, 1989
The reason why, Anthology, first published in 1995 by Jonathan Cape
Not in the Flesh, BCA 2007
The Keys to the Street, BCA 1996
Large Paperback (first 4) and normal paperbacks Rand 20 each,10% Discount for package of 10 or more
Thirteen Steps Down, Published by Hutchinson, 2004
End in Tears, Hutchinson, 2005
Tigerlily's Orchids, Hutchinson, 2010
Portobello, 2008
Adam and Eve and Pinch Me
The Water's lovely
Piranha to Scurfy
The Rottweiler
Murder Being Once Done - Shake hands for ever
From Doon with Death - A new lease of death
The Monster in the box
An Unkindness of Ravens
Simisola
The Secret House of Death
Road Rage
Wolf to the Slaughter
The Bridesmaid
Kissing the Gunners daughter
Harm Done Going Wrong

Ruth Rendell writing as Barbara Vine Sold:
Grasshopper, Harmony Books, 2000 Hardcover
The Blood Doctor, BCA 2002 Hardcover
No night is too long, large Paperback
Asta's Book
The Chimney Sweeper's Boy
The Minotaur
King Solomon's Carpet
The Brimstone Wedding
A Dark-Adapted Eye
Gallowglass

Dick Francis, Hardcover:
5 Novels: For Kicks, Odds against, Flying Finish, Bone Crack, In the Frame - (Rand 60)
3 Novels: Trial Run, Whip Hand Twice Shy- (Rand 60), Bloomsbury
To the Hilt, First edition, Penguin 1996
10 Pound Penalty, Michael Joseph, 1997
Bolt
The Danger, Michael Joseph, 1983, first edition
Break In, Michael Joseph, 1985
Bolt, Michael Joseph, 1986, first edition
Dead Cert, Michael Joseph, 1991 (11.edition)
Second Wind, DCA, 1999
Paperbacks, fair condition:
2 novels: Field of 13 - Shattered
2 novels: Enquiry - Reflex
Longshot
Smokesreen
Rat Race
Hot Money
Come to Grief
Decider

More to follow: this is only the beginning of a long list of books. In fact we will offer some 2000 books from our library. Also furniture and other items. If you are interested to view, please make an appointment.

---
rosie AT stellenboschwriters.com